Extend your life: NRC(Nicotinamide ribose chloride) and NAC(Nicotinamide ribose chloride)
Views:5 Author:Site Editor Publish Time: 2021-05-03 Origin:Site
NRC(Nicotinamide ribose chloride) is the precursor of nicotinamide adenine dinucleotide (NAD) and represents a source of vitamin B3. .Other studies using nicotinamide riboside in Alzheimer's disease models have shown that the molecule is bioavailable to the brain and may provide neuroprotection by stimulating the synthesis of NAD in the brain.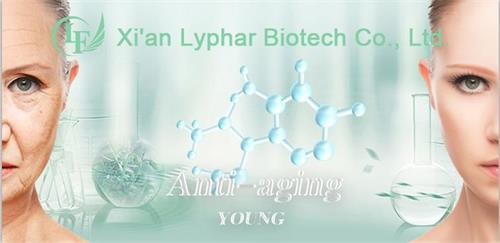 Recent studies have shown that ingesting a larger amount of nicotinamide riboside than naturally occurring in food can provide new health benefits.Nicotinamide Ribose powder can also improve mitochondrial health, stimulate mitochondrial function and induce the production of new mitochondria.
NRC(Nicotinamide ribose chloride) is Chloride form of Nicotinamide ribose powder, Lyphar Biotech is China majorest and earlist Batch manufacturers producing NR,NRC,NMN,NAD+ which wine win good reputation from Customers feedback. Our major market were based on US, EU countries,AU,Canada.We are keep expand producing amount for all NR series products. Currently Lyphar Biotech producing ability can reach 500kg-1500kg NR series products monthly.We warmly welcome customers can test our NR/NRC sample, which can compared and prove our top quality among whole market.